Innovation Days: Digitalization and artificial intelligence
Meldung vom 28. September 2020
Videoconference on 13.10.2020 from 9:00 to 13:00 hrs

Digitisation and Artificial Intelligence
For the future of our society
International decision-makers are often caught between economic and social demands. Digitisation and artificial intelligence are making inexorable inroads into the economy and are increasingly making their mark in personal and social life.
Within the framework of the 15th "Innovation Excellence Days 2020" we offered an introductory lecture and 3 panels with experts* from business and science who will present digital innovation projects and interesting AI applications.
With the conference we are launching a series of events which aims to arouse interest in digital innovations and to initiate a broad discourse in order to strengthen economic and social participation in shaping digital change for the benefit and benefit of mankind.
Due to COVID-19, this first event was held as a zoom online conference.
Here are some voices of participants:

"Although I deal with the topic(s) on a daily basis, I have taken new perspectives, food for thought and information with me. So once again, my thanks for this". Gerhard Pilger - Business Engineering GmbH


"Thank you - I really enjoyed today's online conference. I was attentive until the end and took a lot with me".
Harald Leupold - Vice President IHK Nuremberg for Middle Franconia


"I wanted to thank you very much for today's AI event! That was a lot of new information and perspectives. And the conceptual breadth was really great." Dr. Jutta Albrecht - Speaker IHK Munich and Upper Bavaria



Conference language
German
Patronage
Community Global Partners Bavaria


Organizer of the event
Global Partners Business Solution GmbH, Innofocus GmbH, StategicInterCom GmbH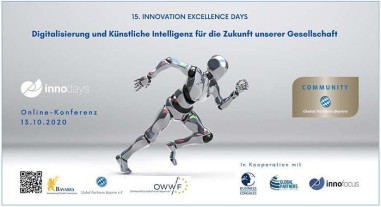 back